One of my favorite parts of Black culture has to be dance and music. We are so creative! Dance is universal and when accompanied with today's music it has the potential to create a wave that millions are sure to follow. There's a new dance every year and now, living in a world dominated by social media, we're able to come together as one.
There's no way I'll be able to fit every dance onto this list, but here are a few of my personal favorites!
---
First things first. Where would we be without Dem Franchize Boyz?
#1 Lean Wit It Rock Wit It
The "Lean Wit It Rock Wit It" is a classic. Your mama told you to "do that lil' dance you do with your friends!" for all of your aunties and uncles! The family reunions weren't lit until the cousins told their old head uncle to play Dem Franchize Boyz. The skating rinks were full of kids leanin' wit it and rockin' wit it on a Sunday night. But, the best thing about the dance was when that one person threw an imaginary object into the air and everyone knew what was coming! Everyone turned in slow motion then came down quickly with a SNAP!
Oh, I think they like me!
DJ Unk dropped Walk It Out, which was a huge hit. I would say that this dance was neck and neck with the "Lean Wit It Rock Wit It". The two were often combined!
Speaking of combinations, we also had Chingy's Right Thurr, which consisted of the "Chicken Head" (and many other names depending on where you're from) with a little bit of the "Walk It Out" dance. The "Chicken Head" was made up of a lot of neck rolling, knee popping, and arm moving. Gotta love it! I laughed so hard when watching the video in preparation for this article.
#2 Crank That Soulja Boy
When you heard that first "YOUUUUUUU", no matter where you were, you were ON THE FLOOR! This dance is equivalent to today's "Whip and Nae Nae". Even toddlers knew how to do this dance. It was played everywhere!! No matter who you were, you were doing this dance!
There were so many crank that dances that I couldn't keep up! People were crankin' that Batman, Frank, Yank, SpongeBob, Spiderman. Y'all, the crank that dances were LIT! Watch me crank that Soulja Boy then superman that OOOOO…
The majority of the dances before 2014 had a completely different style compared to what we're doing today. Now, there's a new wave of dances that have taken over! Something those young folks know about.
With that being said…
#3 Whip/Nae Nae
It wouldn't be right if I didn't add this one! The beauty of Silentó's Watch Me is that it brought so many people together! The "Whip and Nae Nae" are universal. It's one of those dances that you'll always remember and it will always get played no matter how much you are tired of hearing it. Something like the "Cupid Shuffle"! Be prepared for this to be played at every birthday party, family gathering, you name it!
#4 Hit Dem Folks
The "Hit Dem Folks" dance craze is taking over right now! Originator of the dance, Bankroll Fresh did it with this one. This is one of the few dances I've seen guys go in on! This is a dance that people definitely add their own flavor to, which makes it that much more amazing. The "Hit Dem Folks" dance is definitely here to stay with Black culture.
Check out a few variations of the dance…
---
---
Personally, I like to throw in a slight DAB on 'em…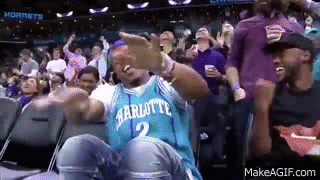 #5 Milly Rock
My all time FAVORITE dance of all dances in 2016. THE MILLY FREAKING ROCK! You can Milly Rock to anything, which is why it's my fave! You don't have to know how to dance, just feel the vibes.
…ON ANY BLOCK!